Really Cool Movie
Sorry I didn't post yesterday, I was doing family stuff, so I'll be on a bunch today! Anyway, I wanted to Post a De Niro movie on here because I haven't done that yet so I'll start with his most well known character.
I saw Taxi Driver for the first tie about a month ago and it was so different then I expected. The movie showed such raw/real subjects and it's jut really cool and well put together. Most importantly to me though, DeNiro's acting is incredible, I mean, he plays everything from a hard core crazy guy to a really nice guy trying to get a date and it was all so well done. It's kind of a weird movie, but its really good and fantastically performed.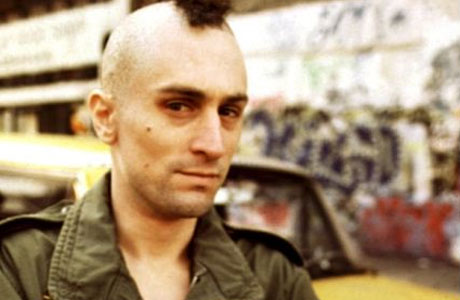 Robert De Niro
I love him, he's really close to Robert Downey Jr. for me. I think he has an incredible talent. Whoever he's playing, he has so much energy and realism and character. While he does love the roles of Italian New York Gangsters, I first saw him in Awakenings with Robin Williams and it was absolutely incredible, I practically cried (I'll have to write a review on that movie later). Honestly, I have yet to see a DeNiro movie I dont enjoy, but here are some of my favorites as of now:
Awakenings, Analyze This/Analyze That (sequel), Bronx Tale, Goodfellas, Taxi Driver.
Also, I'm kind of saving Raging Bull and The Godfather series for a few rainy days, but Raging Bull  is supposed to be absolutely incredible and the Godfather.. well i mean, its the Godfather… so…